What a Day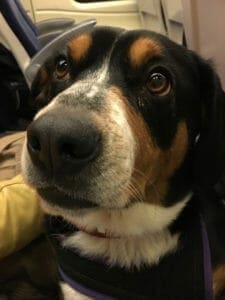 What a day yesterday was. Remind me not to have breakfast at 5am again. It left me far too hungry later on. I was as good as gold on the train. No sooner had we got on than the snow started, but thankfully it didn't slow us down. Everything went to plan and it was exciting to see my friends when we arrived. Mum told me it didn't matter how well I did in the show ring as she would be taking the best dog home, no matter what. I may have taken her words a little too literally.
In the show ring
First of all Buddy was competing against Basil. Buddy won. Then Izzy and Sybil had their turns. Izzy got too excited and just wanted to go and see her mum, so Sybil won. Then I was up against Lia. Oh dear. Lia looked great. Me on the other paw, well I pretended I was just there to have fun and was also desperate to run back out of the ring to find Mum. It was an easy win for Lia, but then Mum did say that Lia was looking very good so would probably have won anyway.
Lia went on to beat Sybil, but lost to Buddy who took best of breed. I do still have a very pretty blue rosette but Mum says she's not sure I deserve it.
Discover Dogs
Then I went to lend a paw on the Discover Dogs stand. That's where I get to meet my public and tell them what we are like to live with. Well, normally it is me that people want their photograph with, but this year was different. People kept wanting their photo taken with Mum because of the book she has written about us. Given it's us who feature in the book, I really don't understand. We look so much better than she does too.
Anyway, today is a rest day for a short while. Then I want a long walk before heading back to do my stints on the stand tomorrow and Sunday.
See you soon
Love
Wilma
Out Now – The Complete Entlebucher Mountain Dog Book
Alfie's Diary – the Book as well as our other books are available HERE
© 2018 Rosemary J. Kind
All site content is subject to copyright and may not be reproduced without written permission.