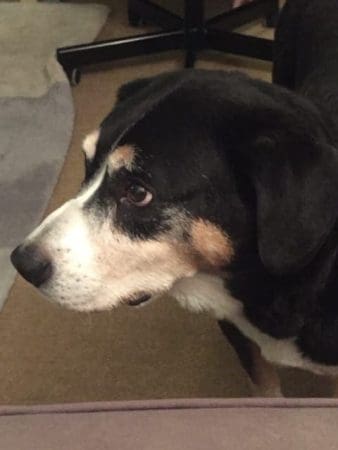 One of us gets back to full fitness and then the next one ends up at the vet. Aristotle twisted his knee playing with Wilma. It's worse for him as his front legs are not so strong, so it's much more important that he can bear weight on his back legs. Fortunately, it does not seem to be serious and our Mistress is giving him gentle exercise and lots of rest as well as some anti-inflammatory painkillers. He's feeling a bit fed up, but that's to be expected.
Wilma is so hormonal in her pre-season state that it's probably fortunate he only got a twisted knee. She has her bronze good-citizen exam tonight and having done so well all through the course the way she's behaving our Mistress has a dread that she will just skip off and do something else when she's supposed to be working tonight. I have high hopes. We're usually pretty good when we know we have to work and I think the little pep talk I gave her earlier will do wonders for her concentration. I'm hoping Wilma will be ok too!
I went swimming yesterday and it's now with a different hydrotherapist. I worked very hard, but it's going to take me a long time to adjust. As I've got older I've really got to a point where I find any change to my routine is quite distressing and besides I get so attached to the people I care about. I know I will get attached to the new person in a few months, but for now it all seems very strange and I don't want to stop for cuddles when I get to the end of the pool. Wilma still comes to cheer me on and that helps, but I would prefer if nothing in the world around me changes anymore.
You can find short stories to read at www.alfiedog.com
Alfie's Diary – the Book as well as our other books are available HERE