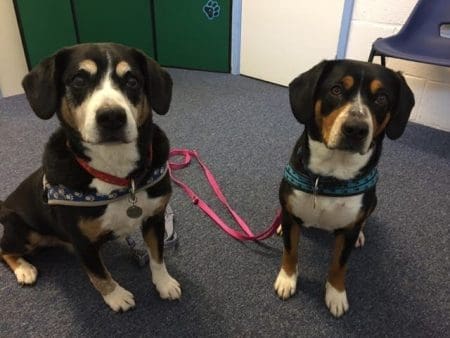 Hello everyone, it's Wilma here. I've had a really exciting weekend. I went to see Granny and Grandpa on Saturday and then yesterday was of course Alfie's birthday and we all had a lovely day. Alfie likes his new blanket and we all enjoyed our little bit of steak in the evening. We had a great walk too, out in the nice warm sunshine. It made a lovely change for it to be warm.
What was really funny was that Dad had the pantomime dress rehearsals. They did one in the afternoon and then another in the evening. In between he come home still wearing his make-up. Of course, I wasn't fooled because he still smelled the same, which is a good thing in case you were wondering. He did look funny though.
I thought that was enough excitement for one weekend, but the English Entlebucher who has been living in America for the last couple of years, flew home this weekend too. So we have another of us here again. Our Mistress was worried about him flying but it all went fine and he landed safe and sound. He's called Alfie too, which does cause some confusion. I really want to meet him as Mum thinks I might get on quite well with him.
Then of course there is my little nephew Ralph. He's not so little now and will move to England in another couple of weeks. He sent me his photo playing in the snow in Switzerland. He says he loves it and looks as though he's having huge fun. I said he should make the most of it as we don't get so much snow here. I think I'd like to go on holiday to Switzerland so I can play in the snow. I want to do that thing where you lie in the snow and move your arms and legs to make snow angels, but I don't know if it works with dogs.
Anyway, have a great week everyone.
Love
Wilma
You can find short stories to read at www.alfiedog.com
Alfie's Diary – the Book as well as our other books are available HERE