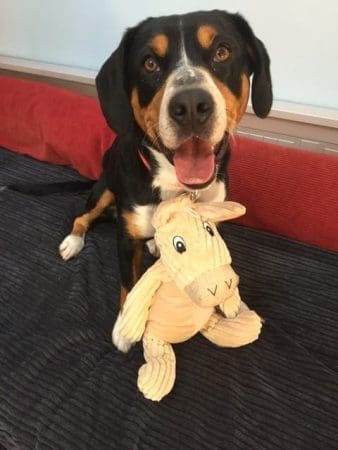 Heidi is going into the animal hospital today for her operation. She is going to have to stay in all week. We're all sending her all our love and hoping that everything goes really well for her. Paws crossed for a really good result.
I'm learning a new trick and everyone who has seen me so far says it's really cute. I'm learning to sit up and beg. When you're as long in the back as we are it's harder learning to balance, but I'm getting the hang of it. I know Ari can walk on his two hind legs, but I think he learned that because his front legs are weak. With me, I've always favoured me front paws and used to do front paw stands when I was younger. We started my new trick completely by accident. When Mum asked for my right paw I got confused between left and right and gave her my left one and then my right one in quick succession, so that they were both off the ground. She caught them both and encouraged me to stay sitting. Now we're doing it deliberately and she explained that's what I should do when she says 'beg'. It's great fun and I'm expecting to be able to use it to earn treats from strangers when I'm finished.
My little nephew Ralph sleeps in true Entlebucher style, displaying all to the world. He really does look quite cute. I do hope I can meet him soon.
I like these colder nights as it means more snuggles. At bedtime rather than having too much heating I suggested we could just put another dog on the bed as long as that dog was me! Mum seemed quite happy with the arrangement, although to be fair it was quite hard to fit two adult humans as well.
Have a lovely week
Wilma
You can find short stories to read at www.alfiedog.com
Alfie's Diary – the Book as well as our other books are available HERE