Yesterday was not quite what I expected. Our morning did not go to plan. The first part involved driving in hot weather to somewhere that was in the middle of a city and we gave up. Then realising the other stops could be just as difficult, Mum decided to come and find our hotel so we could recover and then go out again. I was desperate for a drink and cool down by the time we got there and made my feelings very clear. The hotel were lovely and recognised I was an Entlebucher as soon as I walked in. I was made to feel very welcome and offered water immediately.
Anyway, once we were sorted we went to find a restaurant that is on the site of a hotel which was owned by the man who 'rescued' our breed from obscurity in the early 1900s. There was nothing much to see, but that didn't stop Mum getting excited and celebrating with an ice cream. If I had thought the road to that was bad, I wasn't bargaining on our next stop. To be fair Mum does not cope well with windy roads that are narrow and have steep drops at the side. When the side you would need to pull in is lined with an electric fence it makes her even more nervous. We saw some very beautiful and extremely rural parts of Switzerland. You wouldn't find them if you weren't specifically looking for them and they probably wondered what the odd woman in a right hand drive car was doing going that way. I'm guessing they thought we were lost… very lost! Sense got the better of Mum eventually and she decided as the opportunity arose it was time to turn around. We had another stop where she tried (and failed) to do one of those clever panorama photo things. You'll just have to take my word for it that it was spectacular as she clearly didn't press the right button and is not going back!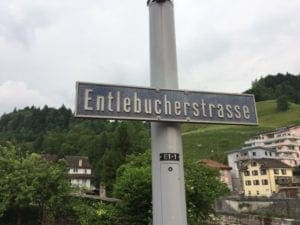 We went for a lovely walk when we got back to the hotel and were so excited to find a road with my name on it, well my breed anyway. We were both pretty tired by the end of the day and were glad to relax in the hotel restaurant for the evening. Now I've got to get ready for a really important day as I'm going to Entlebuch today. This is very exciting. Mum has been before but it will be my first time.
Love
Wilma
You can find short stories to read at www.alfiedog.com
Alfie's Diary – the Book as well as our other books are available HERE