It's Wilma here again, Alfie is fine but he said I could write an extra day to send all my love and best wishes to my human and dog family in Switzerland. They were involved in a serious car accident on their way home from our friends. One of my birth humans had to stay in hospital but is hopefully coming out today and I think my dog Mum is very shaken, but she and my sister and my humans should be ok. Their car isn't, but at least that is replaceable. I couldn't bear it If anything happened to the family I care about.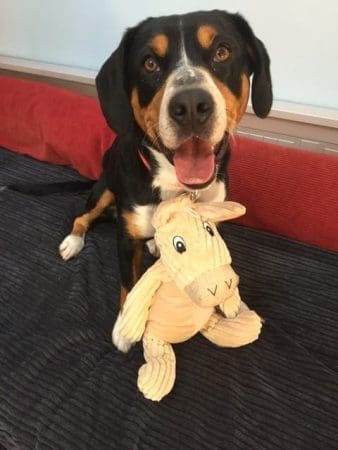 I did go to the vet yesterday and have eye drops. Apparently it is an allergy, but the drops should settle everything down. Mum cheered me up by buying me a present. When she went to pick the boys up from the kennels, the shop had my favourite Horsie back on sale. I am so very happy to be reunited, even if I know it is not the original one I had. Until it falls apart again I plan for Horsie and me to be inseparable. I just hope that Heffalump doesn't get jealous.
Mum is fed up as now on top of the summerhouse roof she also has to repair the garden tool store and the felt blew off the roof of that yesterday. Some of her plants are suffering too, which seems ironic after Dad worked so hard watering them all for her while she was away. At least Perry is still in position at the moment, though Mum does wonder how long that will be for.
Other than Alfie being in fine voice and I mean VERY fine voice, it was a quiet day yesterday. Ari wanted to catch up on his sleep and I'm still feeling a bit out of sorts. I think if the wind dies down Mum is going to try and take us all for long walks today. At least round here there are places she can take me that we are unlikely to see another dog, so we should be ok. I'll be happier when my season finishes though.
Love to you all
Wilma
You can find short stories to read at www.alfiedog.com
Alfie's Diary – the Book as well as our other books are available HERE