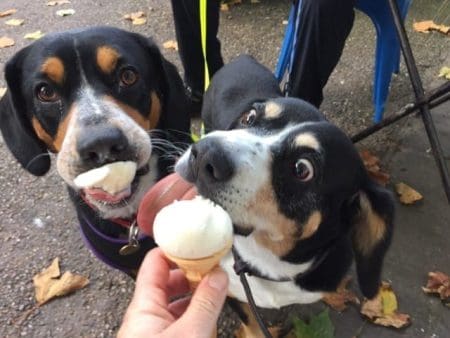 Shadow is up early and waiting to find if she is going to the Darlington Dog Show. She is entered in the veteran's class of the Working and Pastoral Import Register Class in the hope she will qualify for Crufts. There are just a couple of small problems. The biggest problem is that our Mistress was not feeling well yesterday and told Shadow that if she is not well today they won't be going. Shadow is doing her best to be understanding and not look worried and disappointed but she really wants to go. The second problem is that Shadow, is still under the mistaken impression that she can show the younger dogs a thing or two. Now of course, they are likely to be less experienced than she is and quite likely they aren't mother of 22 puppies, however what Shadow is not thinking about is that this is effectively a beauty contest and a dog who is in human years now about 60 is not going to look so good alongside the 20 year old equivalents. Now whilst it's fair to say, that for her age Shadow looks very good. The problem is having to insert the words 'for her age'. Yes, she has a nice slim waste and can wiggle her little bottom as well as the next girl. However, she is very grey around her muzzle and 22 puppies has left some bits irretrievably saggy! There is no amount of dieting or exercise that is going to leave her comparing favourably.
When you add to that the fact she is being taken in the show ring by a human who can trip over her own feet without any help and who is not only clumsy but doesn't know what she's doing and you've got the perfect combination! As our Mistress said, they'll qualify as long as there are no other dogs in Shadow's class!
As Shadow's son, I do feel it is my duty to try to protect her feelings by discouraging her from going, but I have to say my efforts have not been going well.
Ah well – have a great Saturday
Aristotle
You can find short stories to read at www.alfiedog.com
Alfie's Diary – the Book as well as our other books are available HERE