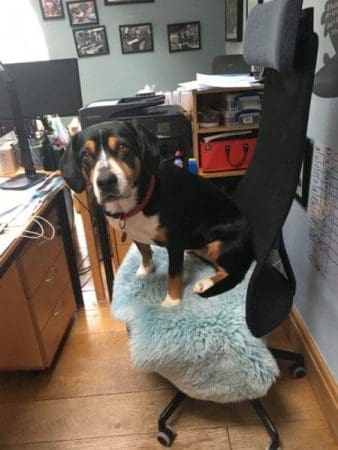 My bags are packed to go to kennels for the weekend and I'm really quite excited. I know I'm always excited, but the thought of a whole weekend to play is quite a fun thought. Oh I'll miss getting into bed, but it's only for a couple of days.
Alfie is still improving, but in need of some tlc this weekend. We just have to hope the abscess doesn't come back now. Now to delve into the archive:
Oh this is about Shadow's second litter in 2012
Puppy mush seems to be the latest fashion accessory with all puppies and my Mistress wearing it in liberal quantities. All five of them have the chance to try a little at each of their daytime feeds. Some eat it, some walk in it and on one unfortunate occasion Beethoven sat in it and got a bit of a surprise.
What is really funny is that now there is a little more time away from the puppies you'd think that my Mistress would be please and happily getting on with other things. However, you'd be wrong. I found her watching them on the puppy cam even though she was sat at her desk and having a break. I think she's addicted. She's going to miss them when they go to their homes.
Then I looked back to when it was just Alfie in 2008
I would like to receive interesting post. Letters such as 'Dear Alfie, we think you're wonderful', not 'Dear Alfie, your worming treatment is due.' That sits along with things like 'your account is overdue'. It isn't just the message it gives it's the insinuation you've been doing something wrong. They only think I need to be wormed because they are suggesting I have been foraging around for food wherever I can find it, including dead animals with worms. What kind of dog do they think I am? Admittedly, I do a little foraging now and again, but never dead things, not unless they've been thoroughly cooked and had a light white wine sauce applied first. I have my standards.
Well that's all for me today. Have a lovely Friday
Wilma
You can find short stories to read at www.alfiedog.com
Alfie's Diary – the Book as well as our other books are available HERE