Just Wow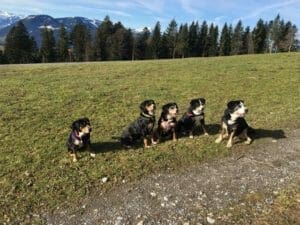 All I can say is Wow – just wow – Where we walked yesterday was amazing. There were views for Mum to enjoy and sticks and muck for me. We met my Mama and sister and Falk and Joya Megan – oh it was amazing. We ran and ate muck and my sister even let me hold the bog stick they found for a few seconds. Mum said the view was very special, but I didn't get so excited about that. I just had the best time ever. Mum says if I promise not to eat too much muck we can go there often when we are here as it is very near where we live.
Falk is the father of Shadow's third litter and he is just lovely. He reminded both me and Mum of Alfie. He's very gentle and looks quite like Alfie too. Mum said it really made her miss Alfie and we've been thinking about him.
Elephant
I'm getting used to the orange cow, but now I've spotted an elephant sculpture in the garden the other side. Mum says we may have to get a sculpture of our own or I could just sit there and pretend. I don't think I sit still for that long though. I do really like our house. It's easy to get used to it as it has lots of stuff that smells of home. It's kind of weird everything being the same but different. I wish the others were here to share it all.
Unpacking
Today is not going to be nearly so exciting. Apparently it's going to be mainly about unpacking and building furniture. I'm not awfully good at either of those. I'd like to go for another walk in the hills, but maybe we can do that after we've done some unpacking. No one can unpack all day… can they?
Love Wilma
Out Now – The Complete Entlebucher Mountain Dog Book
Alfie's Diary – the Book as well as our other books are available HERE
© 2018 Rosemary J. Kind
All site content is subject to copyright and may not be reproduced without written permission.