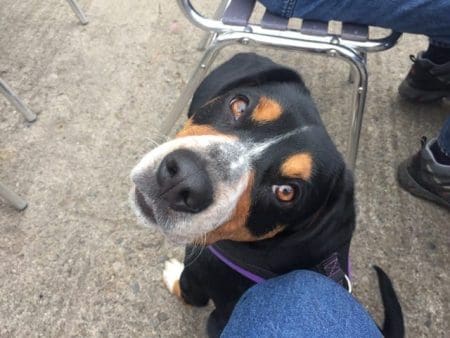 Tosca's Puppies
I went to see the two of my sister Tosca's puppies who have not gone to their homes yet. Carlos really took a shine to me and Heidii is a dear little thing, although I'm sure her mother did not teach her to bark so much! I had a lovely play with Tosca and even though she is twice my age she gave good chase. My niece is moving to England and Mum is really pleased about that, but says it is a shame Carlos, my nephew, can't come too. We really must get all the English end of the family together and take a big family picture to send back to Switzerland.
Mountain Pass
To get to my sister's we drove over a mountain pass. There were tunnels through parts of the mountain which were over 5 kilometres long. In England we don't have anything like that at all. It was very strange. There were some lovely valleys and lakes and the odd scary bit, but I think Mum might have covered her eyes for those bits, even though she was driving!
We came back round the motorway, which was a shame, but she said one lot of bendy roads was enough for one day.
More Puppies
Today I am taking the boys to see my sister Valeria's puppies. You can tell I'm a very proud aunt. I do hope the boys like them as it's very important to me that they do. I'm just sorry that Valeria is not so keen to play with me as Tosca is.
Alfie
We heard yesterday that Alfie has had to go to the vet while we have been away. We hope he's feeling a bit better today. Mum is missing him and thinking about him. To be fair, I'm missing him too and will look forward to looking after him just as soon as I'm back. I've had my trip to the vet to get my passport stamped so I'm all ready to go back now.
Love Wilma
Out Now – The Complete Entlebucher Mountain Dog Book
Alfie's Diary – the Book as well as our other books are available HERE
© 2018 Rosemary J. Kind
All site content is subject to copyright and may not be reproduced without written permission.