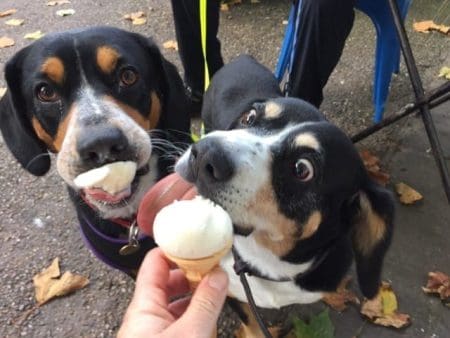 Mum can be silly
Mum can be silly – very silly! We arrived at the check in for Eurotunnel yesterday and the man said 'Is this the only booking you have?' Mum said we'd got one for next week too. He then explained very nicely that she'd booked it the wrong way round and today instead of going from England to France she'd booked to go from France to England. It was a good job we were very early as being a busy bank holiday if we hadn't got there until later we might not have been able to travel. As it was the lovely people at Eurotunnel sorted it all out and before we knew it we were back on our way. Mum was feeling very sheepish and said she really must look more closely in future. I think it's stress! I told he she should have let me help.
Heat
When we left my grandparents it was about 13 degrees and felt a lot colder. When we got out of the car for a stop in France it was 27 degrees and very different. Mum says it's much easier to travel when it's cooler as she can leave me in the car for a while. Fortunately we have a special stick that holds the boot open but means it's still locked, that means I can safely sit there without her, but she worries if there are things in the car that it is not as secure. Doesn't she think I'd be a guard dog if I had to? Actually I think it's probably me she worries about most, which is nice. She usually fills up with fuel she can park under a canopy to give me shade. It just seems unfair that service stations don't allow me to go in or provide covered parking just for dogs. Maybe we should start a campaign.
Now we're packed and ready to go for the last 300 miles. Hopefully today will not involve any silly moments!
Love Wilma
Out Now – The Complete Entlebucher Mountain Dog Book
Alfie's Diary – the Book as well as our other books are available HERE
© 2018 Rosemary J. Kind
All site content is subject to copyright and may not be reproduced without written permission.