Friday Flashback
Well it's time for Friday Flashback once again. Mum felt in need of a puppy fix. So I asked her which year we'd have to go to find puppies in June. Alfie was 7 months old by June, Ari was 9 months, I was 11 months and Shadow was 4 months. As Shadow's litters were all born between September and December they weren't puppies in June either. It meant I had to look back to the year that Shadow was born, 2009.
A very important day
Anyway my choice turned out to be both funny and also came up with a piece of information Mum has been looking for. Next year will be the 10th anniversary of the founding of the Entlebucher Mountain Dog Club of Great Britain and we all want to celebrate. What we could not remember was exactly what day it happened and now we know. It was yesterday. That is the 14th of June and it happened right here in Tholthorpe. How cool is that?
Anyway here it is:
2009 – Alfie writes
In Disgrace
I disgraced myself yesterday. I got on fine with the other dogs. I wasn't possessive about my garden. I don't know whether the other male Entlebucher or I decided which of us was top dog, but it didn't matter. I was the model of self restraint, except for one small point. I peed up the leg of the other male dog's owner. Doing it once might have been considered an innocent mistake. Doing it twice might have been considered negligent, but when I did it for a third time I was well and truly in disgrace. To be fair to him, he took it in remarkably good spirits and I did feel a little guilty that my Mistress was so embarrassed by me. I don't know what came over me really. I know that isn't acceptable behaviour when playing with humans, but I just couldn't stop myself.
Shadow
On the other paw, everyone fell in love with Shadow. She played with everyone and seemed to think all the other dogs were fantastic and she didn't manage to do anything disgraceful or even naughty all day. In fact now that I come to think about it, she was a right little goody four paws.
The Beginning of the Club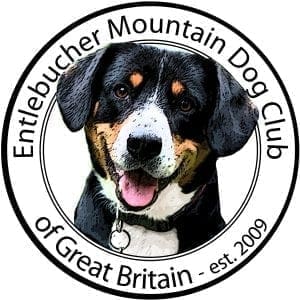 The best bit is that we now have our very own Club in the United Kingdom, just for our type of dogs and people who are interested in us. We're going to have our own fun day in September too, as long as the humans do their bit and organise it. I'm hoping that it means I shall get the opportunity of meeting even more of my type some time and I have promised faithfully to try to remember not to pee on any people. To be honest, I don't think my Mistress could cope with the embarrassment of my doing it again.
Well that's all from me. Have a lovely Friday.
Love
Wilma
Out Now – The Complete Entlebucher Mountain Dog Book
Alfie's Diary – the Book as well as our other books are available HERE
© 2018 Rosemary J. Kind
All site content is subject to copyright and may not be reproduced without written permission.