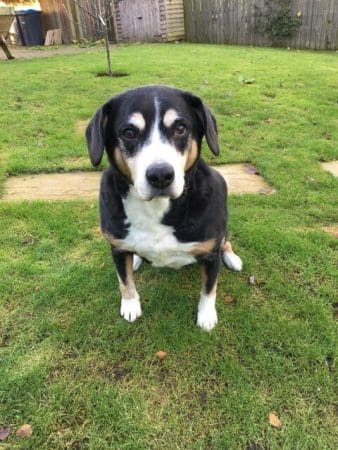 100 Entlebuchers
Today is the first full day in which there will be 100 Entlebuchers in the UK. Yesterday was a very emotional day. Many years ago, well ten and a half, I was the tenth Entlebucher in the UK when our Mistress and I got off the Eurotunnel having arrived from Belgium. Yesterday, little Kylo took the Eurotunnel on his way here from the Czech Republic. He has the privilege to be dog number 100. He is actually the 120th who has ever lived here. There have been others who sadly didn't live to see this day and some who left the country.
Ten Years of Hard Work
It's taken ten years of hard work to get to three figures. Our Mistress was really quite emotional about it all yesterday. Partly she's really happy that I've lived long enough to see this day and partly of course she is just thrilled about the progress the Club is making. Shadow can only claim to be the mother to a fifth of the UK population now, but she doesn't mind at all. She is still the mother of more dogs in the UK than any other Entlebucher and that's a record she will probably hold for the rest of her lifetime.
Here's to the next ten years
Now our Mistress is hoping that during the next ten years the breed might grow to a thousand dogs. The thing is, trying to do that with high quality breeding and a healthy breed, is hard work. It is not something that can be rushed. There are three more coming to the UK at the end of October, and we are waiting to hear on two more, so we're making progress. However it will only be when we start getting regular litters in the UK that the numbers will go up a little faster. We're hoping to see that starting to happen next year.
Good luck Kylo
In the meantime, good luck to little Kylo and his family. It is great to have you here and we all hope you will be a very happy little dog in your new home.
Love from
your Uncle Alfie
© 2018 Rosemary J. Kind
All site content is subject to copyright and may not be reproduced without written permission.