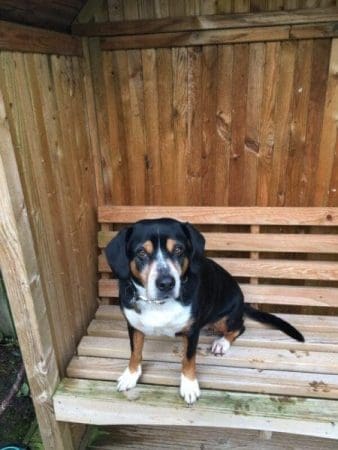 So much rain
We've had so much rain over the last day. We have gone from it being 33 degrees to 13 degrees. It's so strange. On the one paw, I've got loads more energy. On the other paw, I don't want to go out – not even to go to the toilet. When I do that, I come in soaked!
We got ourselves packed up from our log cabin yesterday morning and then drove south to Switzerland. It wasn't much fun. Not only did it rain the whole time but when we got to the airport to drop the boys, none of the car parks seemed to take cars with roof boxes. It meant Mum and I had to drive round and round until we could pick dad up again. I was so disappointed as I'd been looking forward to going in to the departures and waving them off as they went through.
Seeing Mama
We drove home and unpacked the car and once we were sorted out we went to see Mama, Valeria and my new nieces and nephews. It was wonderful. Valeria was so generous and even let me help a little bit. Mum said that watching me made her feel very sad that I couldn't have puppies of my own, but it's ok, I don't mind too much. Dad spent all his time having puppy cuddles and Mum held me close and told me there's no dog in the world better than me.
Jobs
You would not believe the list of jobs that Mum has made of things that need doing. On the bright side, one of the top ones is weeding the garden so we will at least be outdoors for that one. I'm less keen on helping with some of the others. She has asked where I'd like to walk today so I'm hoping to be going to one of my very favourite places. Actually, I think I shall be going to at least two as Dad wants to come for a walk this evening too. I do so love being here.
Love
Wilma