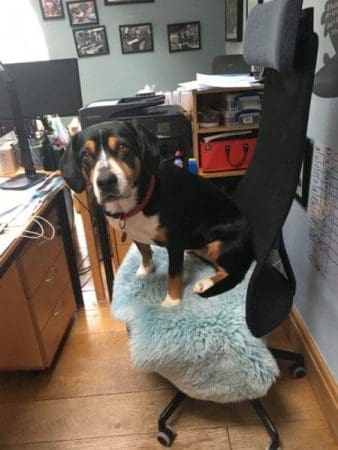 All Getting Excited
We're all getting excited. Mum has been arranging stud dogs for some of the girls in the UK to go and mate with. There have never been more than two litters of our breed born in the UK in any one calendar year. If things go to plan this is going to be a special year. Last year there were no puppies of our breed born here, so any would be an improvement. Don't tell Mum but I'm just as excited as it will mean less competition for me in the show ring at Crufts if some of the others are busy being pregnant. Anyway, hopefully my friend Lia and my niece Izzy will both be having litters very soon.
Weak Leg
Alfie had a bad moment yesterday when he tried to get up and one of his back legs just wouldn't work. He was even trying to stand on the wrong side of his paw. Mum rushed to help him, which is not that easy to do wearing a great big boot on a broken ankle. She was really upset for him and it took him a while to get it working again. I think he may have been lying on it oddly, but he's definitely lost a lot of strength in his back legs, which he's finding hard. He doesn't really want to share the room with me anymore. He just doesn't want another dog around. I'm not taking it personally but it does hurt when we've been so close.
Moose's Hat
Every year when Mum puts the Christmas decorations away she misses something, Oddly, every year it's the same something – Moose's Santa hat. It's a fake moose in case you were wondering. It's a cuddly toy moose's head that Mum and Dad bought as a joke when they went to Canada. He is on the wall in the hall of our house and he gets to wear a Santa hat every Christmas. He's taken it off now, so all is well.
Love
Wilma