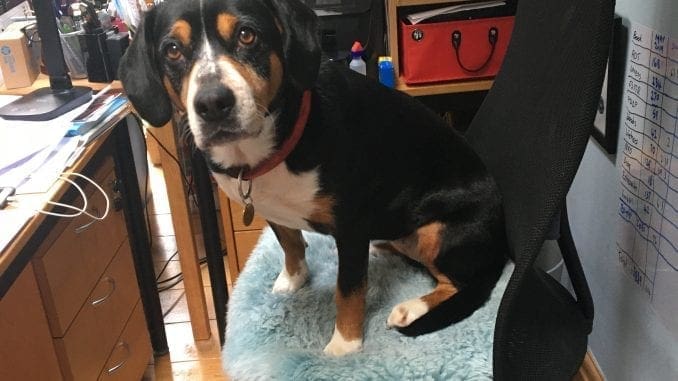 Excited for Shadow
I'm so excited for Shadow. I've spent all my pocket money and Mum has put some towards it to for Shadow's birthday. I'm buying her some of the K9 Connectables. The company has an Irish base. Mum emailed them to make sure that if I ordered they would be sent from within the UK. I don't have enough pocket money to spare to cover any import duties and extra delivery charges. They have assured us they are despatched from a centre in Newcastle so all should be well. As I only ordered them yesterday I don't suppose they will be here in time for Saturday, but they are on the way and I think Shadow will love them. At least I would if she bought them for me, so I hope she likes them.
A Squirrel Impasse
Yesterday there was a squirrel and pigeon impasse in the garden. The pigeon was sitting on one of the branches that squirrel uses to make her way around the garden at high level. It's the one she can jump to the next tree from. Unfortunately, when squirrel got half way along, she found a pigeon in her way. She asked him ever so nicely if she could go past, but he just refused to move. In the end she went a different way, but then had to do some very scary acrobatics to get to the next tree. I do hope she doesn't fall. Mum couldn't watch.
Changing the Calendars
Mum realised yesterday that January has finally come to an end and went round changing the calendars. Given February only has 28 days, being three days late changing the calendar is going to make it a very short month. I know it's not very meaningful at the moment, but it's nice to have a different picture to look at.
Love
Wilma