Going through the mill
Poor Shadow is really going through the mill. She stopped eating her normal food, which worried Mum. Once Shadow had turned her nose up at three meals running Mum was desperate to get her to eat so tried a tin of wet food that we keep for emergencies. It turns out it was one of those times. Poor Shadow has an infection in her gums so trying to chew on her normal biscuits is just too uncomfortable to even try. She was so pleased to face the soft food that she wolfed it all down and said she'd like to continue with that for a while, at least until her infection clears up.
Two for the price of one
Mum also noticed that Shadow suddenly started licking the carpet. They had a long chat and Shadow had been too embarrassed to tell Mum she was experiencing incontinence. She was doing everything she could to clean up, so that it wouldn't be a problem. The vet has given her some reassurance that it is most likely to be an infection as well and the same antibiotics which are sorting out her gums should sort that out as well. In the meantime, the dog pants are out and there will be a lot of washing so that she's always got a clean pair to put on.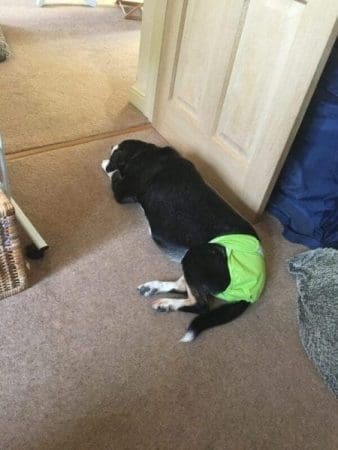 Staying cool
Meanwhile Mum has worked out more ways to help Ari to stay cool. For one thing when she goes outside with him she walks straight to the trees in the garden. That way they stay in shade. She also isn't let him come outside when she's gardening as he forgets to stay in the shade then. He's fed up as he wanted to get his herbs planted, but Mum said they won't hurt for waiting a couple of days and they can do them together then.
Love
Wilma