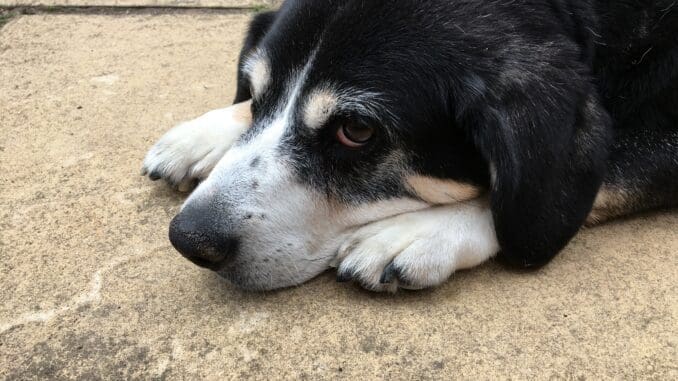 Poor Shadow
Poor Shadow has been back to the vet yet again. She says she is fed up with all her health issues and ageing is not for the fainthearted. This time it's because her occasional incontinence has progressed to it happening more often. She's always been such a clean dog, so is absolutely mortified. She wears pants some of the time in the house but doesn't really like them. Up until now, she only needed them in a morning, but things have got worse.
The vet has run some tests, just to make sure she doesn't have a urinary infection and is then putting her on medication to help with bladder muscle control. In Shadow's opinion the processes attached to ageing can be very undignified. Mum reassured her by saying that even Alfie became incontinent later in life.
Mum is being very understanding and supportive. She also says the carpet cleaner has been one of the best investments she's ever made. It's just a shame she hadn't already got as far as replacing the carpet in the office with a hard floor.
Moths
Actually, most of the carpets will need to be replaced the way we're going. Mum keeps finding patches that the moths have eaten. She doesn't think they are all new patches, some must have been like that when we moved into the house. On the bright side, it does mean we will probably have more hard floors, which we like much more than carpet. Ari goes to lie in the kitchen doorway so he can be off carpet and I go outside the back door. Mum says we can all help choose what we have, which should be fun. We all agree that we don't want a smooth shiny surface that we'd slip on. It really doesn't do us any good when that happens.
Love
Wilma