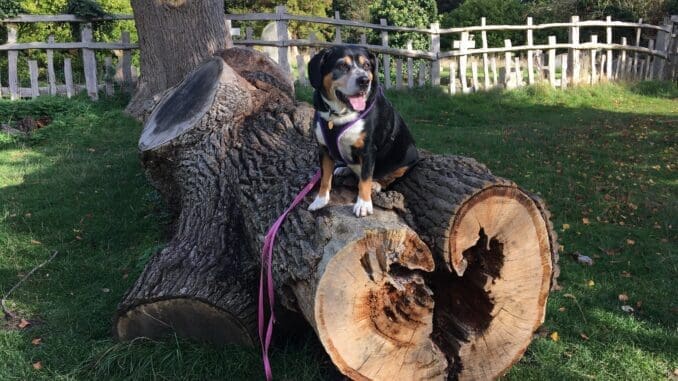 Herding deer
What is wrong with the idea of me herding deer? Ok, so Mum was still attached to the lead when I asked if I could have a go. And maybe one or two of them had very large antlers, but how hard can it be? Mum told me in no uncertain terms that I was not going to have a go. She even double clipped my lead in case I took it upon myself to slip out of my harness.
The problem was that we had gone to Charlecote Park for our walk. In the past there have been a few deer but they have stuck to the rules. There are dog walking paths and there are areas the deer and other grazing animals can spend their time without us looking over their shoulders, or between their legs as the case may be.
Too many to count
Yesterday there were too many deer to count and they were all in the area where I'm allowed to walk. I take it that means I can also have a go at herding them. Or at least I did until Mum told me very sternly that it didn't. Oh I ate the poo – and an odd sandwich I found on the way round. To be quite honest I was wired. I may have disgraced myself and lunged toward a little dog, with Mum reminding me why I got my nickname of 'Wild Wilma'. Mum became even more concerned when I made a couple of lunges toward the lakes that are there. She did not want to go in. What a spoilsport.
We walked about 3 miles or so in the end, which was great, but it did give me time to see an awful lot of deer and have to go past them twice.
Love
Wilma