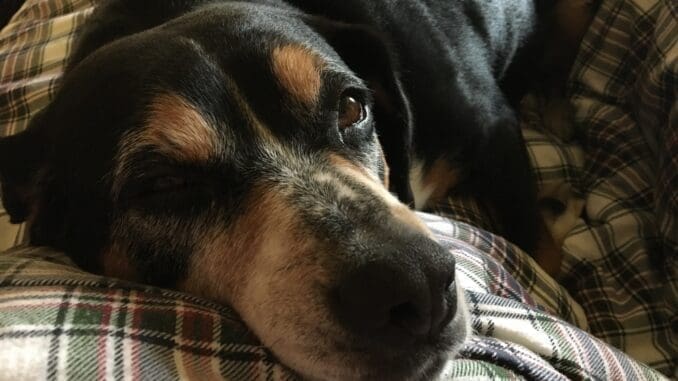 A day of waiting
Yesterday was a day of waiting. Most importantly Mum was waiting for the birthday cake that she'd ordered for Dad's birthday. If that one hadn't come she knew she needed to start baking, so she was very pleased when it arrived. From our point of view the wait for the delivery of the turkey was more interesting. I kept asking if it had come yet, which of course proved annoying but didn't stop me. Dad took me for a walk while Mum waited at home. I was concerned that would mean Ari got to sniff it first, but it still hadn't arrived by the time we got back. It came just in time for Mum to do an emergency trip to the local farm shop for replacement parsnips.
Enough excitement
Mum felt the day had had quite enough excitement. She'd made a big batch of her breakfast cereal – which fyi she refused to share with me! She'd even started to get the dining room ready for our family coming tomorrow. Then the vacuum cleaner stopped working. There is still quite a lot of vacuuming to do, but the vacuum is stuck in the wrong mode and doesn't want to clean carpets. I suggested she could do it the old-fashioned way and get a broom out, but she didn't seem thrilled with that option. Last I saw she was researching how to find what part needed replacing. Given it's Christmas eve today, I think she may be being an optimist.
Outdoor lights
We've reached that point where the battery operated lights are running out of power. Now Mum needs to decide whether to replace the batteries. So far we've replaced the batteries in five sets. Mum said that any that fail before Christmas day will be replaced but any that give up after that won't. I'm taking bets on which set runs the longest on its original batteries.
Love
Wilma