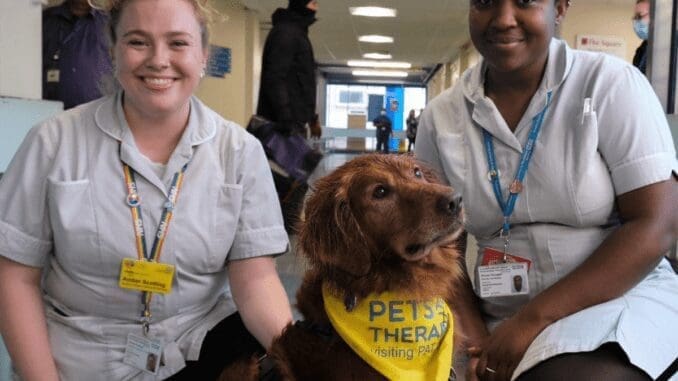 Pets As Therapy Recruitment Drive
Continuing our Crufts theme, Pets as Therapy are launching a recruitment drive this week at Crufts. It's a wonderful charity working with thousands of volunteer pets and owners. They visit residential care homes, hospitals, hospices, prisons and both special needs and mainstream schools. Although most of the pets who volunteer are dogs, cats can offer their services too. If you are reading this and haven't thought about getting involved before then now might be the time. You can find out more about volunteering at https://petsastherapy.org/
Increasing Demand
Demand for Pets as Therapy visits has been increasing. The charity, which has been in operation for 40 years already has around 4,000 volunteers across the country. But there are more than 4300 new establishments on their waiting list for visits. That means an awful lot more pets need to sign up to meet the need.
Volunteering for therapeutic duties is not for every dog or cat. You will need to undergo a temperament test before will be assigned to duties, but once you've gone through that process you can start undertaking therapy visits. If you talk to any of the owners or pets involved they will all tell you that they find it almost as rewarding as it is for those they visit.
Crufts Programme
On Fri 10 March at 2.30pm, Pets As Therapy will be celebrating their 40th anniversary in traditional style with cake from Lola's Cupcakes and some delicious Woofins from The Barking Bakery for the four-legged companions.
On Saturday 11 March at 11.30am, actress Josette Simon OBE will be sharing her experiences as a PAT Volunteer on the PAT stand. She currently visits a children's hospice in London with her PAT Dog, Milo.
Actress Josette Simon OBE and her Havanese, Milo, are a visiting PAT Team. "Being a PAT volunteer is wonderful. Witnessing the benefit and smiles brought to people who experience the companionship and enrichment of spending time with Milo is a two-way exchange and enhances the health, wellbeing and lives of the people we visit. It is such a pleasure to experience that joy and comfort they get by having time with Milo. I can't recommend being a PAT volunteer highly enough."
Making a difference
Clare Davis, Pets As Therapy CEO, is also a volunteer with her two English Pointers, Jamie and Morgan."It is a huge privilege to be part of an organisation which makes such a difference to the lives of people and pets. We know we can't fix the world, but each and every day our volunteers are making a difference to people's lives. From enabling someone lost in the fog of dementia to speak, to time out for a nurse who needs a few moments of calm on a busy shift, our PAT teams are there for them. We can also be a catalyst and help someone who's reluctant to open up & share what's wrong. Our impact is immediate, it's in the here and now."
Why not lend a paw?
Dog owners can sign up to become a PAT Volunteer, and anyone can register to host a fundraising PATnic or make a donation by visiting: https://petsastherapy.org/.
Love
Wilma