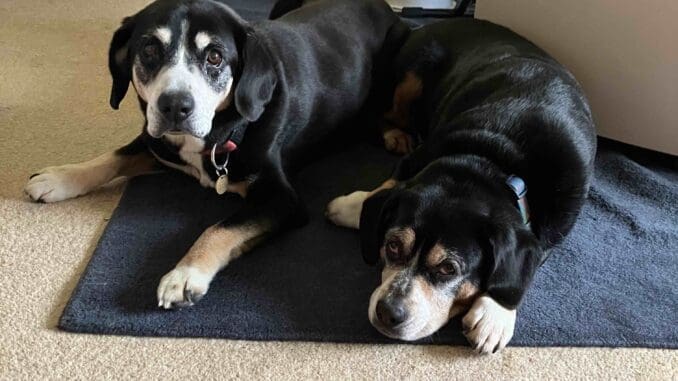 Waterlogged
We seem to be taking waterlogged to a whole new level. You can't go anywhere in the garden without being up to your ankles in water. One side of the garden has a whole new stream developing and is so fast flowing that it's cutting a channel into the garden by the roses. We do have a spring at the top corner of our garden and the garden is on a slope. Gravity is now taking its course. Mind you, Mum tried to go out earlier and it was impossible to get anywhere. The water was so bad that she turned around and came home and said it wasn't worth the risk.
Swimming
Unrelated to the water in the garden, I am delighted to say that Ari will be starting hydrotherapy again a week on Monday. He is not happy, but Mum is very pleased. He really needs to do some work to strengthen his back legs and even he knows that's true. As he will be on a treadmill for the first time he has a taster session to see how he gets on. Mum is hoping to book for him to go regularly but they are still discussing that!
Squash harvest
Because the rain was so bad yesterday morning the builders didn't come. In the afternoon as it was fine Ari persuaded Mum to do some gardening with him. They harvested the other bed of squash, bringing in another 40. I think that makes about 95 in total. It's funny seeing them all laid out. Most of them are two varieties and then there is just the one butternut squash looking very out of place and lonely. The plant must have worked very hard to produce that one squash.
If it's dry today or tomorrow Mum says the apple harvest and clearing up the fallen apples is next. I'd better get eating!
Love
Wilma
© Rosemary J. Kind 2023 All site content is subject to copyright and may not be reproduced without written permission