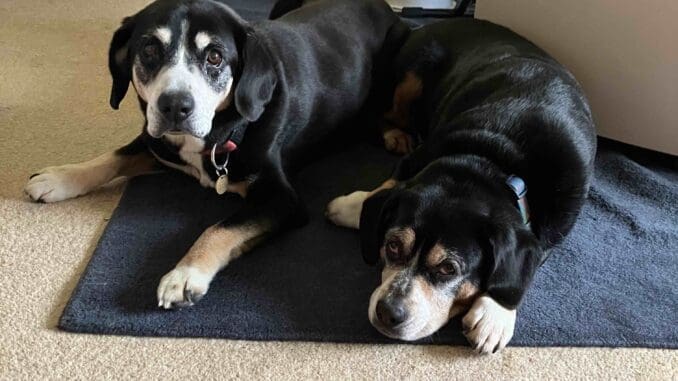 Out of reach
If Mum doesn't want me to help myself to extra treats she should make sure they are out of reach. She might have thought that the middle of the kitchen table fell into that category, but I am a healthy, middle aged Entlebucher and I can still stand on two legs. Dad caught me and had words. I just hate being on a diet. It really isn't fair. I get hungry. The other thing which apparently I'm not supposed to be doing is running off with the door stop. They are asking for trouble having a sausage dog door stop which looks as though it ought to be one of my toys. Mum said she'd better not get me a real Dachshund as I might pick that up by the neck and run off with it. Honestly, does she really think I'm that insensitive?
All change
Ari isn't happy. From next Wednesday we won't be able to go out of the back door to the garden. Ari isn't coping with all the changes and is finding it much too confusing. On the plus side he won't have to walk over the planks which go across our temporary oil line anymore. However, on the downside we will have to walk through rather more mud to get round to the back garden.
I'm taking most of it in my stride, but then I quite like mud.
Dad has got the right idea. He's off travelling for work for about 10 days. I'm rather jealous because he's going to places I'd like to be going to. He's off to Amsterdam and then Vienna. I've never been to Austria, but I do know dogs there so it would be fun to go to see them. I don't think Dad will be doing that, which is sad. If I went with him to the Netherlands I could go to see my friend Cookie, but I shall have to wait until next year for that.
Love
Wilma
© Rosemary J. Kind 2023 All site content is subject to copyright and may not be reproduced without written permission