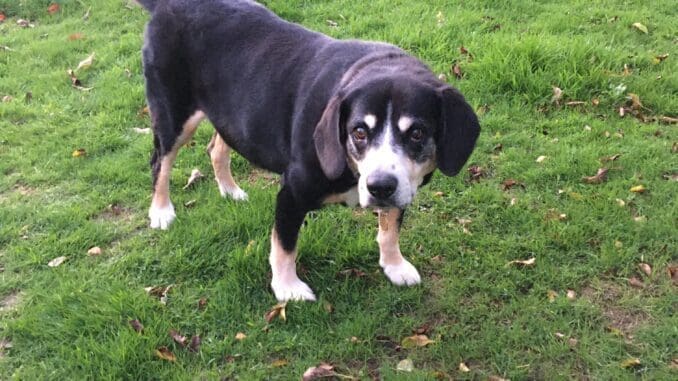 Leave me alone
I'm only trying to show my concern for Wilma but all she keeps saying to me is 'Leave me alone.' She has said it very clearly, but I can't stop myself. Ok, let's be honest, a certain amount of it is fascination with the size of her wound. I suppose I can't blame her for being grumpy. She's such an active dog and crate rest really isn't her thing. I can happily put my paws up, but that's not for Wilma. Mind you, Mum has learnt after the episode where I decided to remove my own stitches and Wilma's cone will be in place for a number of days before she's given more freedom.
Compost
Today was a good day in the garden. Mum helped me digging some of the compost out of the compost bins and topping up our raised vegetable beds. We haven't put the new ones in yet, she said she'll try to help me with that over the weekend. Although, I saw the list of other things she has planned and I'm not optimistic. Apparently sorting out the faulty washing machine is more important than my vegetables.
On the bright side, a number of the jobs on the list do involve cooking. I'm all in favour of that as long as I can be in the room. I don't want to help with the actual cooking, just some of the clearing up. I'm especially keen as Wilma won't be around to beat me to all the best bits.
Tree planting
Dad will be busy planting trees this weekend. His cider apple trees have arrived and he's keen to get those in. I'd offer to help him, but he'll be working in the front garden and I'm not allowed out there as the fencing isn't secure all the way around. I've asked Mum to sort that out, but she hasn't got around to it yet.
Love Aristotle