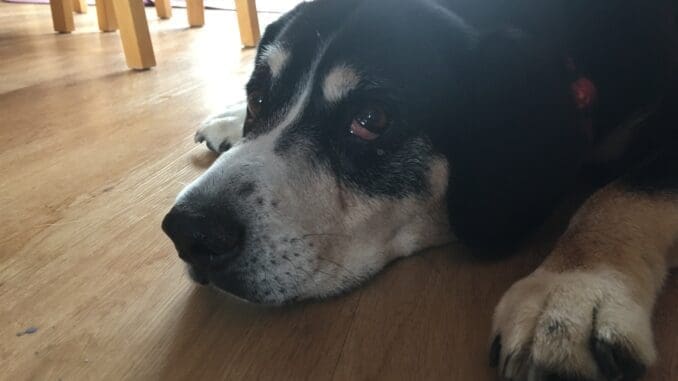 Home but woozy
Wilma is home but woozy from her operation. She's feeling very sorry for herself too, which I can understand. They have had to cut away quite a chunk of flesh on her leg. It must be really sore and uncomfortable, but she isn't complaining. She's fed up about wearing a cone too, but Mum said although a body suit might be more comfortable, the cone would let air get to the wound and would stop Wilma from starting to run about and jump.
It has dawned on Wilma that she's going to miss out on a walk with some of her friends on Sunday and she's really fed up about that. I said she could keep me company as I always have to miss out, but oddly that didn't seem to cheer her up.
Vegetable beds
In amongst all the worry about Wilma, my new raised vegetable beds arrived yesterday. I had to get Mum to help me carry them through to the back garden. They aren't very raised – they're not like the ones that Wilma has to jump up to get into. These will only be about 40cms high, so just at a level I can work at easily for digging. I've got to do some digging on Saturday to get the ground level where they need to go. Mum has said I need to dig carefully where she says and not just randomly, which is a shame. I'm not the most controlled when it comes to digging tendencies.
Washing machine
My hearing is going, but even I could tell there was something very wrong with the washing machine yesterday. Because I didn't really realise what was going on, I was overreacting every time it made a screeching sound. Mind you, I think Mum might have been under-reacting in the hope that it was all going to be all right. I really don't think it is. I can't imagine for a minute that any washing machine is supposed to make that particular noise!
Love Aristotle