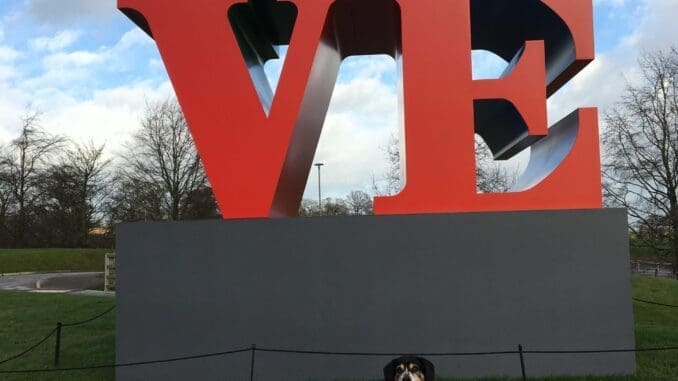 I accidentally went to the Zoo
Yesterday I accidentally went to the Zoo. Mum is usually someone who follows the rules. She gets quite upset when she does the wrong thing and yesterday she really did the wrong thing. When we got to the zoo there were two car parks, one that was free and then one you paid for. Mum had turned in to the one you paid for and was at the barrier checking in, thinking it just meant less walking. As it had started to rain that seemed like a good idea. What she did not realise (until it was too late) was that it actually meant she was in the zoo itself and could drive around. Dogs are not allowed in the zoo – not even assistance dogs. I was in the zoo. Mum was feeling very stressed.
I'm a good girl
By the time Mum realised what she'd done it was too late to do anything about it. Obviously I didn't get out of the car, but sat like a good girl in the back. Mum told me to keep my head down, but I couldn't resist looking out of the windows as we went from section to section. It was absolutely awesome. Mum began to fret even more as lunchtime approached and I was going to need to stretch my legs. 'I'm fine,' I said. I was having such a good time that a short wait wasn't going to be too much of an inconvenience. Mum was also rather stressed as the car was close to running out of diesel. She had visions of running out of fuel in the zoo and having to explain both the fact she had broken down and that she had a dog with her.
All was well
I can now say that I have seen camels at close range and rhinos and zebras at a distance. I didn't see all the animals as everyone else kept getting out to walk to different areas. Of course I didn't complain as I knew there was nothing Mum could do about it. And I had tried chasing a deer on my morning walk when I get his scent, so it wouldn't have been wise.
Thankfully was able to wait for the toilet until we had left the zoo and we didn't run out of fuel before we arrived at a filling station. Once everything was sorted Mum looked much more relaxed and we all came home laughing about it.
Love
Wilma