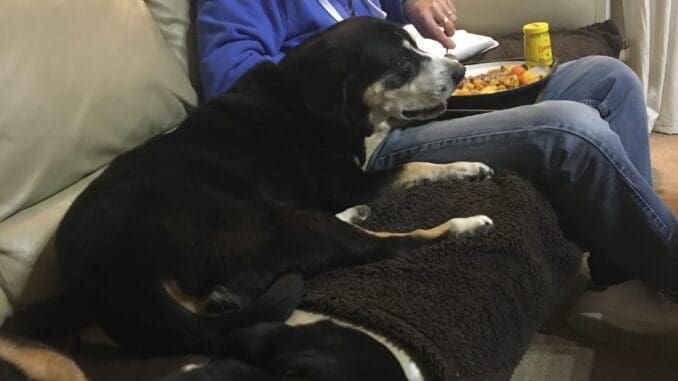 Up a ladder
When Dad is up a ladder we all have our paws over our eyes. Mum certainly wasn't happy, especially as the ladder was sinking into the ground. He was pruning the apple trees and it all looked very precarious. Ari offered to help – I think it's a boy thing. Mum said that wasn't going to happen and sent us indoors out of the way. It is lovely having all the gardening really starting up again. Mum finished cutting the hedge too. On the disappointing side, neither Mum nor Dad thought it was all right for us to run off with the pieces of tree or hedge. Today Ari has asked for help with chitting his potatoes. I'm leaving him to it.
Crazy day
Today is, even without the potatoes, a crazy day. All the things we packed up in Switzerland are being redelivered. Ari and I will be keeping well out of the way and leaving our humans to sort out the mess. In amongst that, a man is coming to find out why we have a smell of drains in the hall.
Attacked by a joint of beef
Why Mum is so worried about the things Dad does I don't know. Mum needs no help at all in getting injuries. She was happily taking some meat out of the oven the other day when it spat some fat. Not the little bit that usually happens, but enough to go everywhere. We weren't too close you'll be pleased to know. Mum was very happy she was wearing glasses as they were covered in fat. Sadly she also got several quite bad burns on her face. She was even less impressed when Dad was more concerned about where she was putting the meat down in the kitchen than he was about the pain Mum was in. On the bright side, the meat tasted very nice and I enjoyed licking the fat off everywhere I could find it afterwards.
Love
Wilma