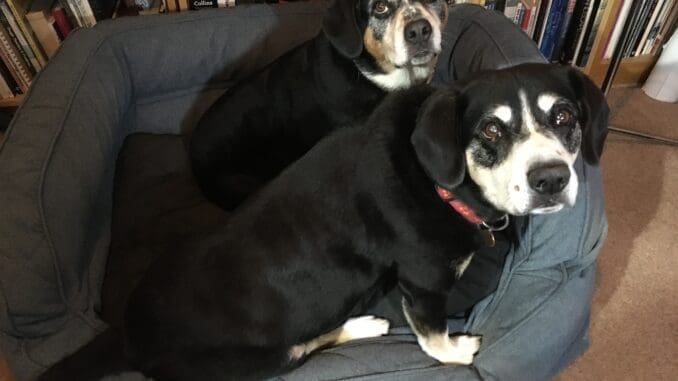 Results for Aristotle
Yesterday we got the results for Aristotle from the tests on the lump on his leg. We're no further forward. There weren't enough cells for them to be able to tell what it was. He's not a happy dog. The vet stuck three different needles into his leg to get cells out and he ended up bleeding. He feels that should be enough for any dog.
It could be one of a number of things. There is a possibility it is just an overgrowth of skin cells. However, it might just as easily be a spindle cell tumour or a sarcoma. The simple solution would be for him to have it removed, but with his age and him having a heart condition that carries risks too.
He isn't worried
Aristotle is not too worried and he just takes each day as it comes. Mum sat down with him to discuss what to do next and they have agreed to see one of the more senior vets for a second opinion and to discuss options. His appointment is on Tuesday so we'll have more idea of next steps then.
Jumping around
I know I'm supposed to be taking it easy still but I can't resist jumping up onto Mum's bed. I did get a bit of a surprise as since I was last on it another mattress has appeared. Dad brought one back from Switzerland and there is nowhere else to put it, except on top of the one already there. It makes it higher to jump up but that just adds an extra element of challenge. A little thing like that isn't going to put me off.
I don't really think I need to be contained at all anymore. My leg feels fine most of the time. It's a bit sore after a walk, but I know how to rest when I need to. I'm feeling pretty good all things considered.
Love
Wilma