We have been testing out Soopa Dog Treats. They make a range of award winning, plant based dog treats and they invited us to give them a try. We have been working our way through a Floofin' Good Bundle . The first thing I would say is that these treats are much better value for money than many we have been asked to test. This Bundle costs £16.99. It includes two small bags of treats, two packs of four dental bars and two packs of two jumbo sticks.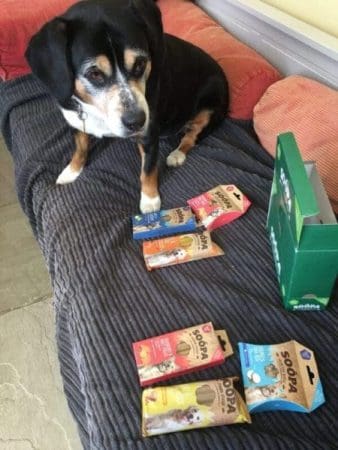 Dental Sticks
I asked Ari to try out the dental sticks. There were two flavours in the box, apple and blueberry, and Cranberry and Sweet Potato. They are grain free, low fat and full of vitamins. He has tried dental sticks in the past and his usual complaint is that if you have a big mouth and a strong jaw they are gone too quickly to do any good. He was ready to prove a point and and the dental stick proved him wrong. These are much thicker than most dental sticks. A small dog could chew on them for a long time. Ari made his last long enough to involve having to use all his teeth and put in a bit of effort. These dental sticks impressed him.
Superfoods
A lot of the ingredients used are superfoods which are things that have special powers, such as helping digestion, improving your coat, improving immunity. One of the big tests that Mum looks at is if they affect our tummies at all. We have good news there too. Ari has to have a carefully controlled low fat diet, but the good news is that the treats ticked all the boxes for him and he was delighted.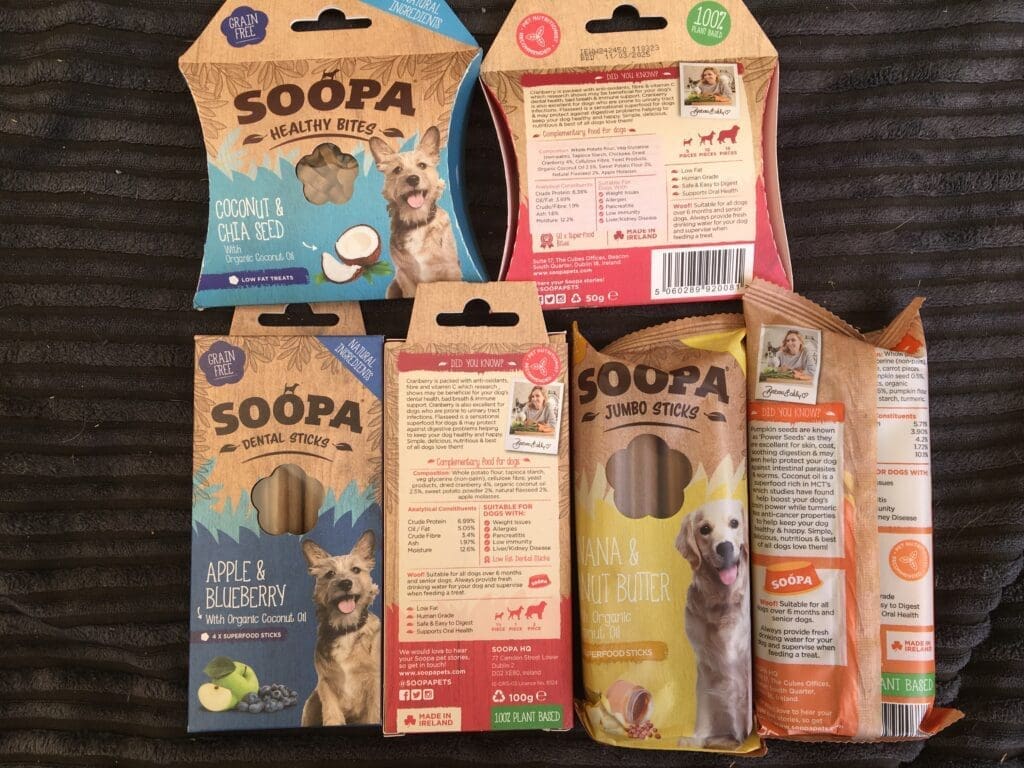 Healthy bites
The healthy bits are a great size for giving a little reward. Mum said they would work well as training treats and if that's the case I'm volunteering for extra training sessions.
Flavours
We loved their combinations of flavours. Almost all of them included things which are our favourites. Apple and Blueberry is always going to go down well with us. Those have coconut oil in too. Banana and Peanut Butter is probably every dog's dream and again has coconut oil and I don't need to tell you that we were big fans of the carrot and pumpkin flavour. The two we were less familiar with were Cranberry and Sweet Potato, and Coconut and Chia Seed – but they went down remarkably easily.
Overall we give them a full six bone rating. Well done Soopa. We were impressed.
If you would like to try them with a discount offer then use this code http://soopapets.refr.cc/wilmav to get a 15% discount. If you do then we can order some more at a discount too, so please don't tell Mum as I'm supposed to be on a diet still.
Love Wilma
© Rosemary J. Kind 2023 All site content is subject to copyright and may not be reproduced without written permission