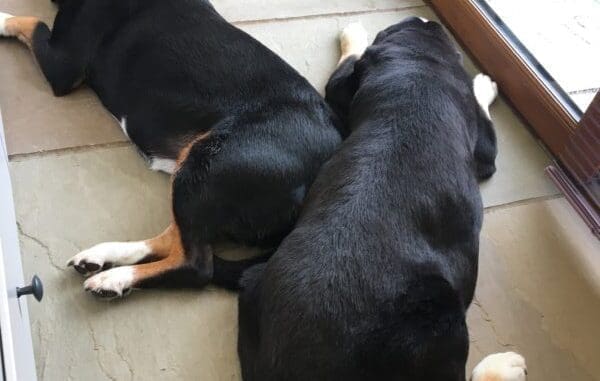 Being sick
I spent yesterday afternoon being sick. It would have been quite funny if I hadn't been feeling sorry for myself. Yes, before you ask, it was my own fault and yes I know you've warned me as well as Mum. Eating unripe apples is not good for me. I do know, but I can't resist. The downside was that I didn't go for a walk as planned as I wasn't really feeling too good and just wanted to curl up quietly.
The funny part
The funny part was that to begin with Mum thought it was Aristotle. He hadn't been feeling too good and we curled up together at lunchtime for a bit of moral support from each other. He was the one who peed on the hall carpet, that wasn't me. Anyway, Mum got the carpet cleaner out and cleaned up after him. She put it away again and half an hour later Dad called her to say there was dog sick on the landing. She assumed it was Ari and got the carpet cleaner out again and off we all went upstairs.
And repeat
We came downstairs before Mum. She came down to find another pile to be cleared up in the hall. Back she went to work. Then she put the carpet cleaner away again and went into the kitchen. By the time she came out of the kitchen to go back to her desk – you've guessed it, I'd left another pile in the hall in a different place. It was Dad who worked out it was me as he'd been with Aristotle so could eliminate him from enquiries. I held my paw up and confessed then as I really wanted to curl up somewhere and trying to pretend I was innocent was getting harder. Mum was a remarkably good sport about it all – other than making me wait for my tea and she was happy I was ok.
On the bright side the apples are improving all the time, so hopefully it will be a short-lived problem.
Love
Wilma
© Rosemary J. Kind 2023 All site content is subject to copyright and may not be reproduced without written permission