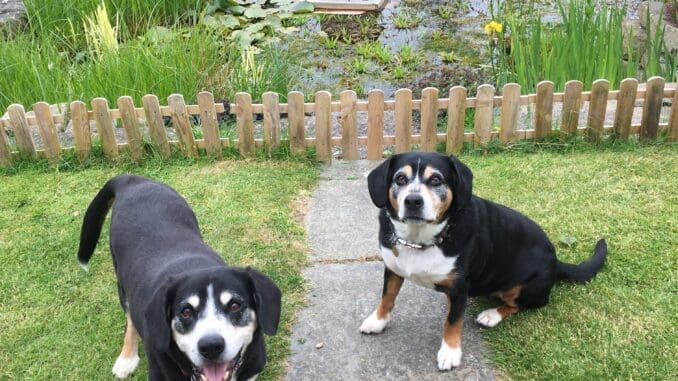 Sheep stealing
Stop thief – there's a sheep stealing our plants. I actually caught it earlier with its nose through the fence pulling branches of one of our plants through to the field to eat them. Aristotle was furious. We marched over to the fence to ask what it thought it was doing. I hadn't even got as far as opening my mouth to bark when it went back down onto all fours on its own side. Ari said we should have made a lot of noise, but I've got so used to Mum asking us not to have shouting matches with the sheep that I didn't really think about it.
Mum told Ari not to worry too much and it wasn't an important plant it was eating. He said that wasn't the point and was unhappy that Mum wasn't backing him up. The thief got away with it – this time!
Hatton Locks
I had a lovely time taking Dad to show him Hatton Locks. We walked further than Mum and I had done when we were on our own and it was great. Now I'm feeling better I don't make a fuss around other people and dogs and we all had a lovely relaxed time. I said hello to a number of dogs, by sniffs rather than barks and I didn't scare anyone. It is good to be feeling myself again after being out of sorts for so long.
Reality check
I've got so used to being around Dad all the time for the last few weeks that it's a bit of a reality check this week. He's going away for work for a few days and I'm going to miss him. On the plus side, Mum has said I can sleep on the bed if I'd like to, so it's not all bad. I'll still miss him, but at least I'll do it in comfort.
Love
Wilma
© Rosemary J. Kind 2023 All site content is subject to copyright and may not be reproduced without written permission