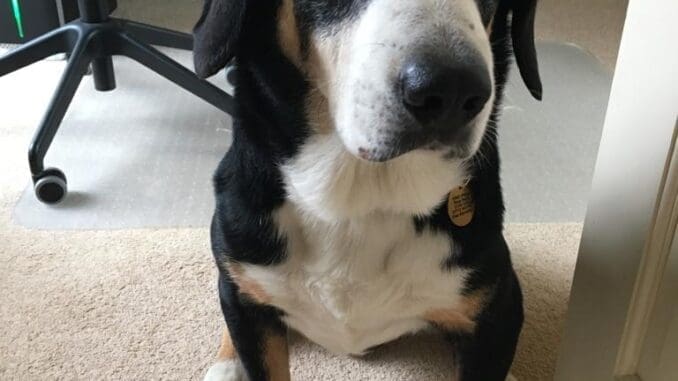 A good day
Yesterday was a good day. Rafa is feeling a little more confident and is wagging his tail from time to time, in a good way. He goes to get a toy if he wants Dad to play. At one point yesterday he asked if I'd like to join in so we both had a bit of a chase and a game of fetch. There is still nothing he'd like more than his humans to come back for him. He still thinks he's only here on a temporary basis, but he's making the most of it.
Old dog new tricks
He is totally disproving not being able to teach an old dog. For one thing he is very quickly learning the rules of the house and what is expected of him. He's also doing very well in his crate training and in finding his own place to chill out.
While it's been only him and me, it has all been quite good. We had two little spats, but they weren't as bad as the day before and were both about finding ourselves in the same confined space at the same time.
Today however Aristotle will come home and we have no idea how that is all going to work. Mum and Dad are desperate to find ways to make it ok and have sat down with me to discuss strategy. I can only tell them how I think, Aristotle is a complete mystery to me.
Feeling loved
I have explained that it's important that each of us feels loved and valued and that neither Ari nor I feel threatened or displaced by Rafa's arrival. Mum and I are making sure we have time for just us during the day and she's promised to try to do the same with Aristotle. Dad is going to be Rafa's human and Rafa is very happy with that arrangement. The only problem with that will be the times that Dad is away and there is a risk Rafe will be thrown back into grieving for the humans he's lost. We can but try.
Wish us luck for later when Ari comes home.
Love
Wilma
© Rosemary J. Kind 2023 All site content is subject to copyright and may not be reproduced without written permission