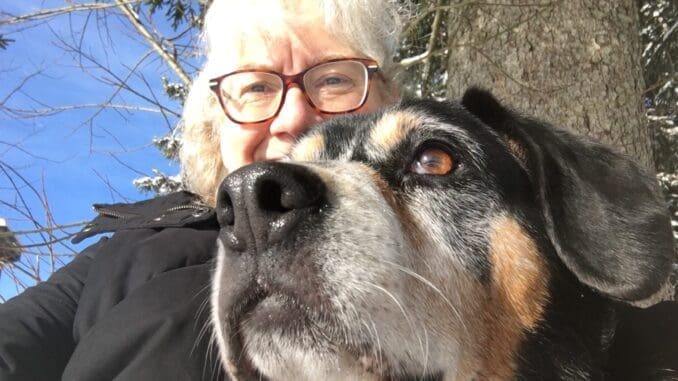 Lovely by the river
It was lovely by the river yesterday. I'm never happier than when I've got both Mum and Dad to go out with. In the past, I didn't like anyone but Mum holding my lead, but now I'm as happy with Dad as I am with Mum – as long as Mum is by my side or in front, so I can see her. If she makes the mistake of walking behind me for any reason then I double back for her all the time and drive Dad nuts.
We had to go right into the centre of Stratford, as Dad needed to go to the bank. I don't generally like traffic and busy places, but I coped just fine. The pavements are quite wide so you don't have to be right next to the road. What is really odd is just how many people there are looking lost. Mum said they are tourists. They all seemed to be following paper guides and bumping into things.
Hunting in packs
The other funny thing was finding that the traffic wardens hunt in packs. We kept seeing them in their bright yellow uniforms and I had to ask Mum what they were doing. They didn't seem to have a shortage of vehicles parking where they shouldn't. Mum said that was why there were so many of them. I thought Mum just liked parking away from the centre for my benefit, but it turns out that it's easier all round. When we went home, there was a very long queue of traffic trying to get into the town. They should just have done what I did and walked.
Afternoon in the garden
We spent the afternoon in the garden helping Aristotle with some of the things he wanted to do. He'd stayed at home in the morning. He likes busy places even less than I do. If he can amble about out in the garden he's as happy as anywhere.
It was a pretty good day all round really. It was a cuddly day too, both while Dad watched the rugby and with Mum at one point, when she sat on the ground outside for a rest and we both piled on top of her.
Love
Wilma