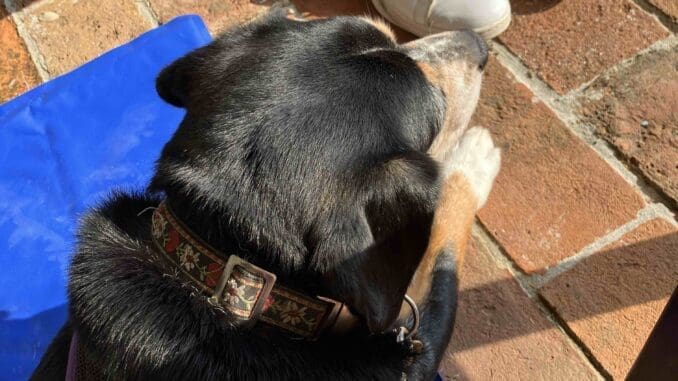 Perfectly chilled
Just as we'd all reached the point of being perfectly chilled it's time to move on. The weather most certainly is the opposite of chilled, but I spent yesterday in the shade or in an airconditioned room. It was a completely relaxing day with cuddles on demand. Mum is pleased with how much more comfortable I am becoming around strangers and I even sat on the terrace with her at lunchtime. Ok, so I barked at one or two people who came along, but I did stop when asked… eventually.
Starting for home
Today we have to start for home. We're having lots of stops along the way, but they are all in a homeward direction. I've got quite a lot to look forward to, including some time at the seaside if I'm lucky. My whole journey today will be in Italy as I head up to the border with Switzerland.
I do find humans a bit of a nightmare when they're trying to pack. I keep asking if Mum's thought about my bed and my pillow and she keeps saying 'later'. What if she forgets and leaves it behind? Then what?
Vet visit
My vet visit is booked for when I see my friend Ruff in Lausanne. I have to take my passport for it to be stamped. Poor Ruby had hers done before she left Italy and arrived at Calais yesterday to be told there was something wrong with it. We did feel sad for her as it has happened to us and it's no fun at all. She was left having to stay overnight before going home. Sometimes I think there is just a conspiracy going on for them to make some money out of it, but maybe I'm being cynical! Mum always worries about mine right up to the point we get on the train.
I'm just off to make sure my pillow has gone in the car. See you later.
Love
Wilma
© Rosemary J. Kind 2023 All site content is subject to copyright and may not be reproduced without written permission