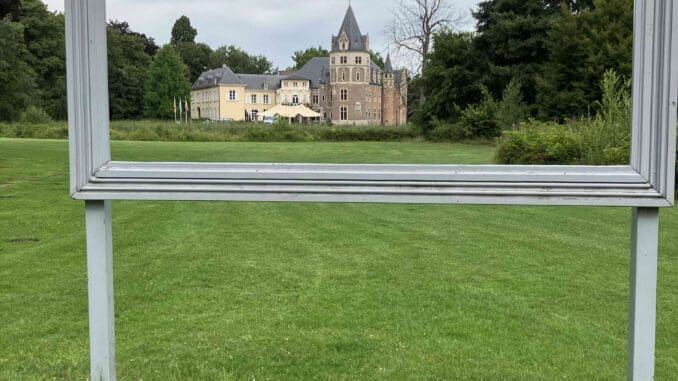 Taking Dad to the castle
Yesterday morning was spent taking Dad to the castle. I couldn't wait to show him the woods that Mum and I had fallen in love with. I knew he'd love it. We had to check out of our accommodation first, but we liked it so much that Mum has booked for us to come back next year. We're going to make it part of our main holiday so that Dad can come for all of it. I'll write up the place we stayed in and add it to my travel map when I'm home, but if you are ever looking for a trip to the part of Belgium we were in, it really is perfect.
Anyway, back at the castle, would you believe there were turtles in the moat? Dad had only just joked there might be crocodiles when a tiny turtle stuck its head up. It didn't look very fierce.
Heading for home
It was good to have a good walk in the morning before we started heading for home. I spent quite a bit of the afternoon in the car and will have to do the same today. We took Dad to the airport as planned and then Mum and I began our journey. Mum is getting good at finding self catering places that I will feel totally relaxed in and had found another one that was off along a road that was more of a farm track, so nice and quiet. It works for both of us to take our food with us and have a little more space to relax while we're there.
The good part about doing part of the journey yesterday is that if things work out as planned we should be home by about lunchtime. I just can't wait to see how Ari has got on with the garden while I've been away.
Love
Wilma
© Rosemary J. Kind 2023 All site content is subject to copyright and may not be reproduced without written permission