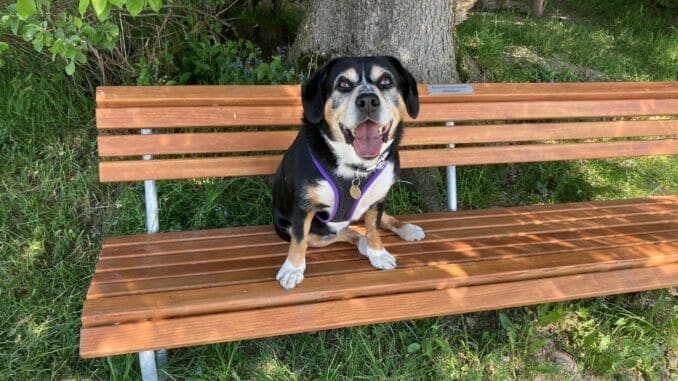 Taking it easy
Mum is still supposed to be taking it easy. Now, as you know, that is not something she is very good at. If it were Dad, that would be a different situation entirely. Dad can sit and do nothing for long periods of time, much to Mum's annoyance. Mum on the other paw annoys Dad by always needing to be doing something. As a working breed of dog you'd think we were both like Mum. We would be, but Ari as you know is lazy, but I digress.
Mum has interpreted sitting still as doing light gardening. She thinks if she's only dead-heading the roses that is almost like sitting still. While we follow Mum around to help, Dad is actually sitting still on her behalf. He says it's team work.
Pond care
Does anyone know about pond care? None of us know where to start and it is very clear that our pond is in need of some tender loving care. It has become very overgrown and for that matter short of water. Mum is torn between letting it dry out so she can clean it out properly and start again, or refilling the water and waiting until the autumn to work on it. It would certainly be easier if there was not too much water but she really is clueless and Ari has refused to help other than in a supervisory capacity. It's the reeds that seem to have taken over, but maybe there is some wildlife that is happy as a result.
Colour scheme
We're hoping it won't be too much longer before our building work can start. Mum has now planned the big things and is on to the more interesting bit. "What colour would you like your room?" I naturally thought she was talking to me and would ask Aristotle separately. Naturally, I chose purple. Aristotle said he'd like green. It was only then I really grasped that we would have to share a room. Mum has suggested we compromise on blue, but quite honestly, given I don't want to share a room I'd like to stick with purple.
Love
Wilma
© Rosemary J. Kind 2023 All site content is subject to copyright and may not be reproduced without written permission