Little settee
The little settee that used to be Shadow's has been sitting at the end of our old garden room since we moved. It wasn't easy to get to it, so Mum didn't tend to use it. That's not strictly true, she did use it to pile other things on top of. Now it's moved into our hall. It's wonderful as it's lower to the ground than the other one and much easier for me to get onto. Where it is also means that the minute Mum comes home she can sit there and give me a big cuddle before doing anything else. I like it so much I've asked if it can be in the hall even after the building work. Dad says it's a good idea, but Mum says we'll decide later.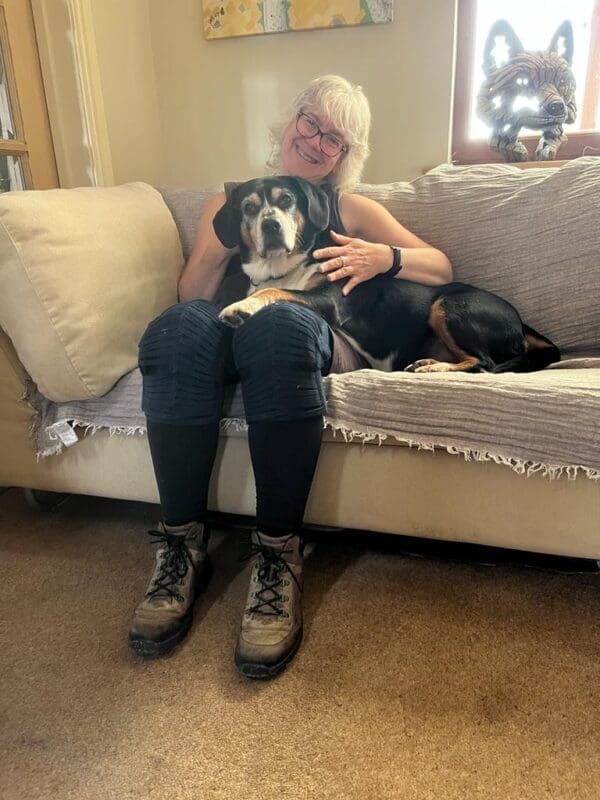 Plan for the day
It turns out that our plan for the day is as much about relaxing as actually doing very much. We aren't starting out early and we don't have to be anywhere by a specific time – not until the place we're staying anyway. Mum has packed our food, some magazines, my computer and my lead so we're good to go. I checked my pillow was in, but that's already in the crate so I'll be comfortable on route. She has promised that we will have as much fresh air and exercise as we want and as many cuddles as any dog could hope for. It certainly sounds like a perfect trip to me. I'm not used to Mum having so little planned and it really is rather nice.
Paws crossed
I've got my paws crossed that this trip goes without hitch. You may remember when we tried to go away last month Mum fell over on day one (her scars are still healing) and we had to abandon the trip to collect Rafa on day two.
Love
Wilma
© Rosemary J. Kind 2023 All site content is subject to copyright and may not be reproduced without written permission