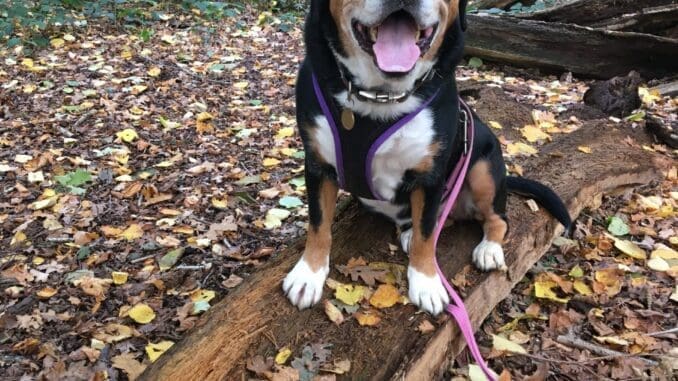 Swimming Day
Today is Swimming Day for Aristotle. You wouldn't know to look at him, but he is excited. Even after his one session last week he found a small improvement in his back leg strength. He managed to put his paws up on Dad's knee when we were all sitting in the kitchen which was great. He did need Dad to lift him onto the settee later, but Dad was happy to oblige.
It's funny, we are now beginning to settle into a feeling of new normal, the four of us. Having Dad home properly helps. It's always good to have enough humans to ensure all dogs can be stroked at once. Dad is usually willing to oblige.
Blustery day
It was a very warm and blustery day yesterday. We went to our favourite woods, which was more sheltered for walking. One poor tree looked as though the wind had all proved too much for it and the top half was broken but was resting on a small branch of a neighbouring tree. I wanted to stay around to see how long it would take before it came crashing to the ground, but Mum didn't think that was such a good idea.
We had that whole 'Does a falling tree make a noise if no one is there to hear it?' conversation. Dad was being all scientific and saying that of course it did, while Mum moved on to Schrodinger's cat. That was the point I became really interested and was wondering about whether I should chase it just in case.
Apple crisis
We are having an apple crisis. In the cold weather, the birds helped themselves to my remaining apple store. Mum is delighted as I might finally start to shed a few pounds. I am of course less than pleased. I'm searching around the garden to see what else I can find. I'm not a happy dog when I'm hungry.
Love
Wilma