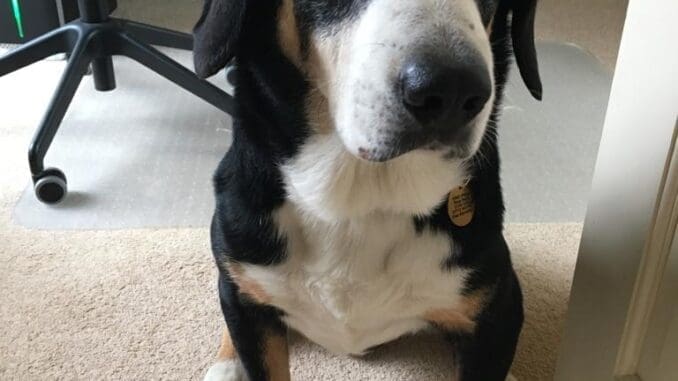 A determined dog
Rafa is a determined dog – a very determined dog! I told you that he'd raided the tennis balls from upstairs, well it has got worse. Dad put the tennis ball away and then hid the box beneath a pile of things. Rafa was then caught red-pawed pushing the large pile aside so he could get to the tennis balls. He didn't care what he might damage in the process. Optimistically, Dad has closed the door to the room concerned. But as Rafa can open doors I still don't fancy his chances. Mum said we should lock doors and not leave the keys in them, but I guess he'd find a way to pick the lock if we did that.
When I was young, Mum nicknamed me Houdini. Over time, I learnt how to behave in order for us all to live as a happy household alongside each other. I could open my crate whenever I wanted to now. However I choose not to, as I realise I'm there for a reason. Rafa is going to have to learn that sometimes there are very good reasons why he isn't allowed to do as he pleases.
Outdoor weekend
As long as the rain isn't too heavy, we're having an outdoor weekend. We've all promised to help Aristotle fill the vegetable trough and start to move all the plants that are under threat. We've also got to move all the garden furniture, harvest the rest of the squash and move the contents of the shed. If I'm being honest, my main contribution is going to be apple clearing, but it's the thought that counts.
We also need to go for a walk down the lane opposite our house where all the horse chestnut trees are. Mum wants to gather some of the nuts as they are supposed to deter spiders. She did it last year and is quite convinced it made a difference. Quite honestly, if it keeps her happy I'm more than prepared to go along with it.
Love
Wilma
© Rosemary J. Kind 2023 All site content is subject to copyright and may not be reproduced without written permission